What is a Will?
A will is a basic document outlining your wishes for your estate. It identifies an executor of your estate and provides the opportunity to divide your assets among your beneficiaries. This tool allows you to control the future care for any minor children and division of your assets. Without a will, the laws of your state will determine how your assets are divided. Therefore, a will is the minimum estate plan you need to care for your family and your assets. However, the purpose of a will is to guide the probate court to act in accordance with your desired plan.
What are the limitations with a will?
Probate
A will does not avoid probate court, and the average time to administer a will through probate is 18 months, while the minimum is six months. The length of this process can place a burden on the family left behind, and it allows creditors to make claims on any debts you owe.
Cost
Probate requires a number of fees–on average 5-7% of the value of the estate.
Public Transaction
Anything that goes through probate is public information. This means that both your assets and the way you choose to divide them become public, able to be found online in detail.
What is a Trust?
A trust is another form of estate planning that allows you to divide your assets as you desire. While this is similar to a will, a trust allows greater control and bypasses the limitations of a will as seen above.
A trust avoids probate, thus freeing your assets and your family from the court system. As such, probate fees are also avoided, and your personal information (assets and beneficiaries) is kept private.
What are other benefits of a trust?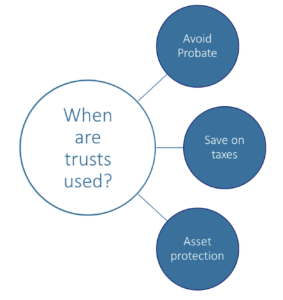 Taxes
Saving on taxes is one benefit of a trust. However, given current tax laws, this is not an advantage unless your estate's value is over 10 million dollars. Note, though, that this exemption is subject to change, and tax benefits may become more valuable.
Asset Protection
This is the biggest reason people use trusts over wills. Trusts allow for greater protection of the estate in case of something unexpected such as a beneficiary who develops a credit issue, or the possibility of a divorce.
---
If you are realizing that estate planning is more important and less simple than you thought, Baron Law will walk you through every step to ensure that your family and your assets are protected. To learn more about the difference between a will and a trust, or to begin planning for your future, contact the estate planning attorneys at Baron Law today.
https://virteomcdn.blob.core.windows.net/wordpress-baronlawcleveland/2019/07/trial-3.jpg
312
820
Dan Baron
https://www.baronlawcleveland.com/wp-content/uploads/2015/12/baron-law-llc-logo-300x98.png
Dan Baron
2019-09-10 09:30:51
2019-09-18 14:15:05
What is the Difference Between a Trust and a Will in Estate Planning?